Crystal Axis – Nairobi, Kenya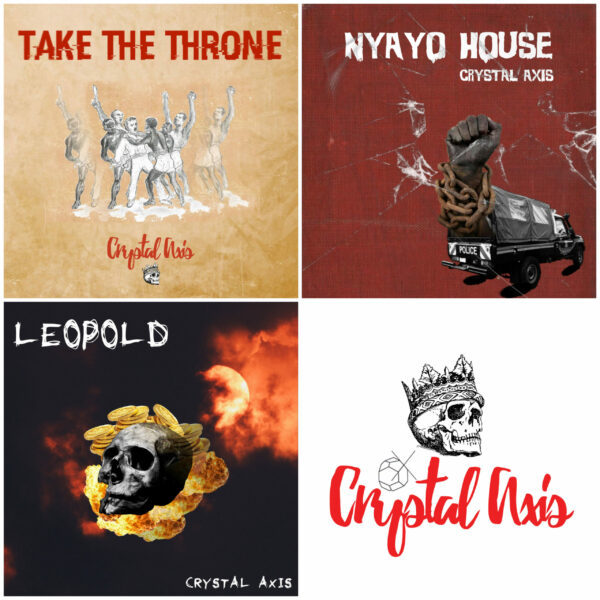 Introducing Crystal Axis is something I am admittedly late at doing. That said, within the underground music verse, it is never too late to both support and discover something new. Punk, for the most part, is transcending race, culture, gender, religion and geography more so than ever. That's not to say the scene's inclusivity is far from its issues, problems and obstacles though. Because that would be a barefaced lie, as there is a long way still to go.
In a nutshell, before we carry on, there's a plethora out there and it's not all from the same old faces and the backward "in my day", and "it didn't matter back then" types. Now, I would hazard that many of us have been sat down a lot more than usual in recent memory. So with that in mind, indulging in the wealth that is the indomitable underground Punk and Alternative music scene is a must.
Crystal Axis, amongst their own scene in Nairobi, Kenya are said to be referred to as the "godfathers of Kenyan Punk". The band have been releasing music since 2012 and although their releases are limited, their hybridised Punk is of resoundingly robust and determining quality. This very statement is beyond substantiated within seconds of 2017's 'Leopold'. The four-piece's jagged yet melodic Punk is rife with brooding attitude in its relatively stripped-back Grunge and '90s Alt. Rock-esque approach. 'Leopold' captures the sonics of early Punk and refines them but isn't afraid to play outside the box. The excellent refrain between 2:46 and 3:39 provides and allows an opportunity to reflect on the easy-going yet melancholic brooding nature of the track and for its lyrical inspirations to really settle in.
The band reference Leopold II of Belgium and his African atrocities during the colonial age and the lingering legacy that still troubles the continent to this day. Crystal Axis take this further and encapsulate, in their own words, the overarching theme of the continent's under-representation since. – 'The song was spurred by the fact that the world over, we all know the atrocities committed by Western dictators and oppressors' and that '[…] a blind eye is turned on the atrocities committed against people of colour, predominantly Africans and black people.'
2018 saw the attitude rich and considerably heavier-set 'Nyayo House'. The band returned through an intro rumbling along with melodic edges and whirling layers cascading into more of their foundational Grunge-Punk. The band are tuneful and accessible on every level but only as far in as necessary. Crystal Axis also leave more than enough room to be the opposite. The four-piece are indeed beckoning but only as they need to be. 'Nyayo House' is a prime example and presents this sonic dichotomy from verse to chorus flawlessly in defiance this time closer to home.
It was 2020's 'Take The Throne' that really stole the show, however. Progressively, although maintaining their Punk-gusto, disdain and disgust, Crystal Axis throughout their work ply it with variety but reach their true sonic combustion in their most recent. 'Take The Throne' is a fight against oppression and its ferocity is felt within seconds of the Hardcore-toned lumbering stomp. The band edge this grit with only the necessary and eerie melodic edge before they fall into a more brooding, bubbling rage. This very rage builds back towards and over the obvious same of the intro. 'Take The Throne' is a perpetual cycle of its own disgust. Vocally, the band's best is felt as it reaches a near maniacal tone as it's hurled in its final screamed form at the world's oppressive elites. Again, the band's Hardcore-inclinations aren't their all as they ebb out screaming to a different beat.
'Take The Throne' is very much the natural successor in the notably well-produced Crystal Axis chronology.
That was my attempt at introducing Crystal Axis, here's to what's next.
The band were also recently featured by my friends in CPRW Records in their 'To The Front' charity compilation which you can also find below.
Updates:
Music:
CPRW Records: