Hillview – Los Angles, California, USA.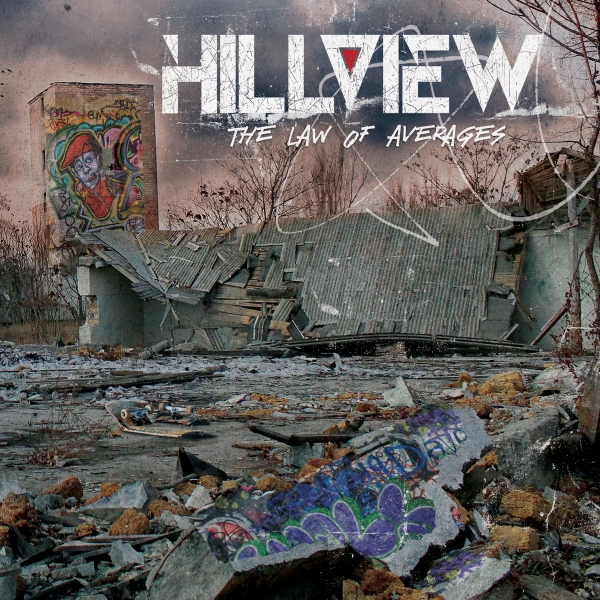 Long and complicated story short, Hillview have finally released their highly anticipated debut full-length, The Law Of Averages, via the celebrated house-hold Punk-Rock label, Morning Wood Records. A label true to it's ideals and branding itself as the  – 'Home Of 90's Punk-Rock Since 2003'.
You can find an older piece on the band – Here – where a tech-driven sound reminiscent of and founded on the seminal 90's Skate and Punk-Rock sound began to find it's feet in a new and dismal world. A world, notably faster, increasingly relentless and far more technically gifted but still despite this, true to it's cathartic honesty and all those tid-bits that made 90's Punk-Rock such an enigmatic, eternal presence.
The eponymous opening track is a shameless blend of classic Thrash and ridged and precision-edged contemporary Skate Punk. In fact the early verses carry a Thrash Metal tone filtered through more than one stylistic of Punk diversification. Vocally, you are greeted with a Punk/Metal hybrid, while Post-Hardcore warps Punk aggression through strings sat somewhere between the three, fighting for their lives and a place to belong. This is Punk as much as it isn't.
embed averages
'Find The Way' is very much a track for early Strung Out fans as said band began to experiment beyond simple Skate Punk. Fans of A Wilhelm Scream will also find something in this jagged-Skate Punk anthem of determination. 'On Repeat' is another child of Punk's appreciation for the early thrashers. From break-downs to driven rhythms and melodic lines, 'On Repeat' is unorthodox in that it charges forward after and in between breakdowns rather than using the technique as a grandiose finishing move as you'd come to expect. This only sets up the verses and vintage chorus to hit all the harder in a track that will resonate with more than one down-trodden respective occupational mind.
'No One Else To Blame' was another album forerunner and other reason why the band's sound is just that little bit unique. Emo-esque melodies, Thrash-esque guitar work and layered Post-Hardcore Punk structure takes you back to the first ten years of the 2000's that wouldn't exist without seminal stylistic power-houses such as Dag Nasty from those notable 80's.
'Road Less Travelled' is very much inline with vintage and early exploratory Strung Out if said stylistic transition would happen today. It's an excellent example of how the eternal Skate Punk sound evolves and explores without losing it's roots, something well echoed in it's choice of words. 'E.S.A.D.' is wonderfully full of jagged, melodic, anthemic and sombre guitars in continuity with Hillview's heaviness but also showing just a little more of their Pop-Punk and Emo-inclined cathartic melody, which is itself fitting to track six's emotional display.
The Law Of Averages keeps you enthralled and engaged in a Punk sound sometimes only hanging on to such a description by a thread that becomes a rope and back again at the drop of a hat. This is Hillview, but a multifaceted representation of their chosen craft. 'Why I Had To Leave' is an album highlight and the final of the forerunners, 'Pictures Of You', is what it is – fast, melodic yet abrasive and emotive Punk-Rock. 'Cages' on the other hand is three-pronged powerhouse of riffs you were almost beginning to fear wouldn't present itself.
'Cages' gives near-fully to Thrash in it's shredding maelstrom of time signatures and subtle Melodic Hardcore infusions left to remind you that Hillview are not a Metal band. The third "prong" very much overall lends the band to Crossover Thrash by proxy but notably on it's own, stirs in just enough vintage American Hardcore. 'Cages' is the band at their most "metal" and most obscure within context but a highlight and sits strongly before 'Broken' uses its might to ease you back in for it's own visceral assault.
Hillview's performance on this album is unambiguously and unequivocally filled with genuine and raw emotion and the heart-on-sleeve lyrics are very much bluntly so but what the band manages to do to further this, is to purvey such emotion before and between their words via the very relentless instrumentation they flawlessly execute. See the incredible 'Afraid To Fall'.
The Law Of Averages an album not just simply needed but absolutely necessary to any for those championing the jagged Skate Punk, contemporary Tech-Punk and Melodic Hardcore doing the rounds via the likes of Fair Do's, The Human Project, Adrenalized and of course the aforementioned genre forerunners and legends. I may have written a lot on this but I have no apologies for you.
Updates:
Music:
Morning Wood Records: