Head Honcho – Seattle, Washington State, USA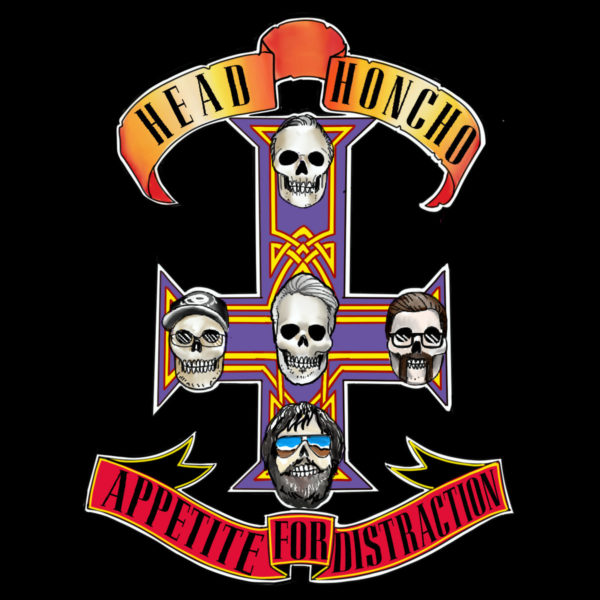 And so it continues! The ever increasing influx of Punk-Rock. Head Honcho and their Appetite For Distraction count themselves apart of the US north-west contingent in this. Based in Seattle, the band have-been knocking out Punk-Rock music inclined towards inviting melodies as much as it is overt odes to early Hardcore and everything in between since 2013.
Anyway, 2020 saw the entry of Appetite For Distraction into the band's riff-heavy, emotionally bare-all arsenal. 'But, So It Is' opens ala a turbo-charged Dag Nasty cut with 88 Fingers Louie before a sound ore than aware of contemporary Tech-Punk. The band's dual-lead-strings segue between each other as much as they run parallel. Head Honcho charge off unto unrelenting pace only where needed and keep your toes firmly amidst their intensity-brand-carpeting ala the likes of Darko or A Wilhelm Scream.
'We Done Struck Gold Pal' spasmodically alternates between Strung Out-esque metallic infusions and blasts of jagged Skate Punk. Although short, these blasts of more traditional fast-Punk-Rock simply exist to propagate the vibrant and overwhelming changes in tempo and arguably style altogether. It is impossible to understand the influence that A Wilhelm Scream clearly had on this band. That, and arguably the emotive vocal tones and anthemic guitar-leads of A Vulture Wake.
'Sweathogg' envelops its surroundings in the visceral 1:42 of cuttingly sharp, juxtaposing melodic introspective Melodic Hardcore Punk. The aforementioned is of crucial importance in the running order of Appetite For Distraction. The charge of Hardcore substantiates the efforts of the record prior and allows it to flow elsewhere should it need too. Head Honcho have shown you what they can do when they deviate without losing their groundwork. 'Throne Of Lies' had the option to follow this adrenalised path of riff-heavy abandon wholly or however it wished. The middling track matches the ferocity of its predecessor with blasts of Hardcore Punk in a bio-polar battle with its melodic mood-swings. 'Throne Of Lies' sees the Tech-Punk standard joining hands with a soaring chorus on top of the gains of the core below. That and Thrash, obviously. We are on the US west-coast after all!
'Dudes Of Tunisia' tunes vintage Skate Punk toward foreboding, brooding Melodic Hardcore without forgetting the genres roots and penchant for a hopeful and in this case, contrasting singalong. This is entirely what Head Honcho wish for in track five, hope. Track five breaks rank away from the intricate dynamic blasts of modern show-offery. That's not to say that the band should have any of the praise laid upon their technical skill negated, for they are yet another testament to the proficiency of contemporary Punk in this tempo-junkie and abrasive vein.
'Mantooth' laments to times past in Head Honcho's purest '90s sound. The penultimate number is what it is and isn't trying to be anything else. 'Mantooth' may not be the attention-grabbing punch-face Punk of those that came before it, but it does its job more than well enough. So much so, that you find it in the EN '90s Punk playlist – Here.
The closing 'We Approached Well' sets it all back on course. The band's wish for distraction and purpose continues atop riff-heavy, tempo-alternating Melodic Hardcore, delicately laced with melodic strings. Head Honcho tie themselves not to one facet of the Punk scene but rather three and do so in a manner attractive to each. The band's Skate Punk is anthemic and infused with contemporary technical proficiency and appreciation to Metal-minded stalwarts. Their Melodic Hardcore is furious but tempered with hook-laden strings and vocals encouraging you closer. And finally, their furious Hardcore Punk exists natural to itself at the top of the band's emotive catharsis.
Well then, that was Head Honcho and their Appetite For Distraction. That's just what I think. Listen and decide for yourself.
Appetite For Distraction can be found everywhere digitally and physically via Lockjaw Records in the UK, with further physicals coming soon via Gasterecords in Italy and Snatchee Records in the US.