Give You Nothing – Santa Cruz, California, USA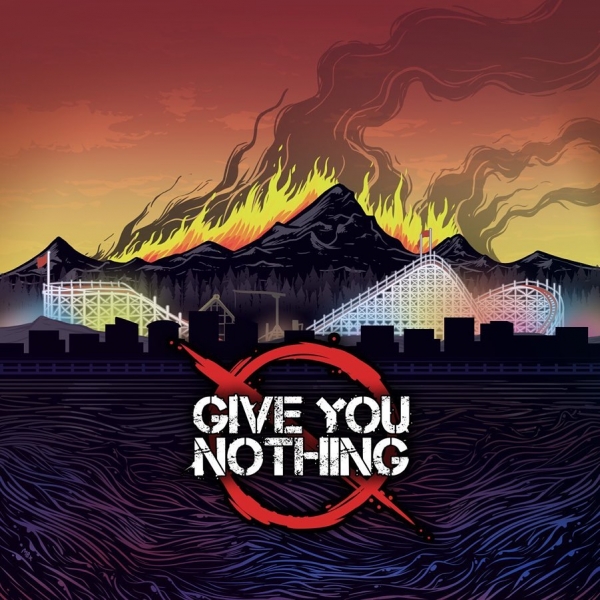 In the contemporary speed-fest that is the current reigning Skate Punk and Melodic Hardcore scene – and I say scene in a symbiotic sense – bands will champion either style or seamlessly blend and cross over these two Punk music sonic-stalwarts as often as they wish to varying degrees but often in a recognisable "Melodic Hardcore" whole. Santa Cruz natives Give You Nothing are very much a part of this but do so somewhat enigmatically within this community of sound.
What am I uttering and barely coherently at that? Well, with this second release and debut full-length, Give You Nothing, rather than adhering completely to what is considered Melodic Hardcore as standard, construct their own variant via a pure and far more grassroots mix of classic Skate Punk and US Hardcore with just a dash of '90s west coast Pop-Punk sensibility.
'Reflection' is an anthem of personal liberation set to upbeat 90's Punk obviously played by a band with a taste for the heavier things in their Punk-Rock lives and it opens an album and returns the band to the soundscape in a more than satisfactory manner. – 'So now everywhere you go will be a reflection of who you are'.
Before realising that one Russ Rankin (Only Crime/Good Riddance) had lent his distinct vocal tones to 'Clean Slate' I had already made a comparison to the riff-heavy Hardcore-rooted Punk of Only Crime, which left said discovery rather fitting. 'Clean Slate' is very much as much proof as any of this raw and organic Skate to 'core relationship on this eponymous album and due to this, really stands as one of the best. Find it in one of our playlists – Here. 'Empty Promises' is raw in its vintage Bad Religion-esque approach plied with early 2000's tempo and Good Riddance-esque guitar lines. The real treat of this third number is in fact when the tempo relents at the halfway point, where the full emotional catharsis of love-loss hits you.
GYN do it again in 'Complacency disease', where they merge shredding, west coast Thrash-infused Hardcore with a pure melodic Skate Punk chorus. – 'We have to strive, to improve future life'. 
'Wishing Well' opts for a little '90s melody in a tone appropriate to the days gone by one that the band reminisce. Despite the relentless nature of their chosen Punk-weaponry, sometimes, a little playful melody can supplement the toughest of records.
'Faults Are Strength' is more of the same and needs not to be anything more in another positive anthem, while 'Ripper' builds on its predecessor's partial return to the 'core exponentially to show a refreshed Give You Nothing free of their rest-bite. Vintage Hardcore bass tones are reminiscent of Good Riddance and Chuck Platt's work while backing vocals similarly capture the urgency of early Hardcore dominate for a time. That said, the vocals eventually relent in favour of the ground laid by the likes of Gorilla Biscuits and the fabled time where Hardcore began to flirt with the word "melodic". Now, I appreciate that this may sound like a simple association but 'Reason To Believe' embodies the lasting influence of Pennywise and I won't hear any argument.
'An Unwritten Chapter' battles itself between the Hardcore Punk bass line and latter-timeline melodic strings so perfectly that your attention is piqued before the eventual union is made. Find it amongst others – Here. 'S.O.B' quite abruptly switches coasts and sits as not only a highlight of this release but something for the Battery fans and the DC 'core Punks.
'A Devil You Know' is the token short track you were expecting but it doesn't make it any less welcome in its twenty-four-second blast of rage against the wolves in sheep's garments and it leads into a track that just about infringes on the contemporary Tech/Thrash-Punk scene without losing the appeal and hold that this record of Give You Nothing-brand Melodic Hardcore has on you.
'Flawed Foundations' closes and that, that is where I will leave you.
Give You Nothing is out now via Umlaut Records (UK) and Snubbed Records (US).
Updates:
Music:
Umlaut Records:
Snubbed Records: