Fire Man – New York City, New York, USA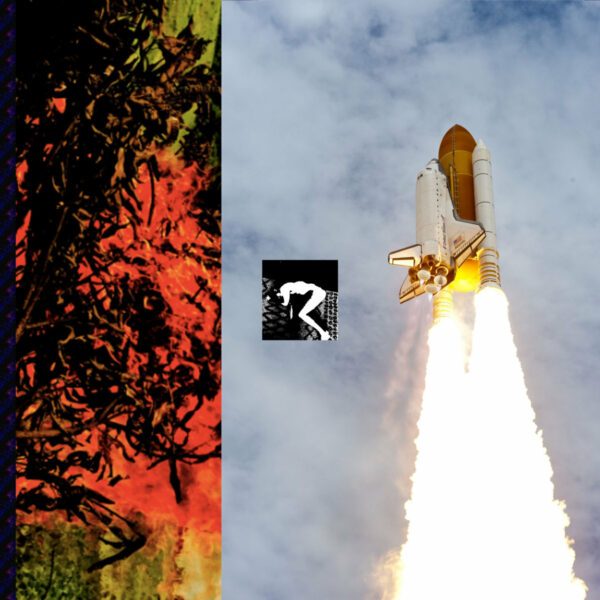 Born from the world of Died's warped experimental Punk and Post-Hardcore, Fire Man and Overcoming The Cycle Of Sun Collapse crashed into 2020.1 via the very same sentient artful chaos inherent to its genealogical line. Fire Man is the brainchild of Died guitarist Caio Brentar as an extension of the fire-brandishing-intense ferocity of the New York City Punks, complete with his own warped and spasmodic personal touch. That and the raucous, pummeling skin-beating exuberance of drummer Kiyoshi. Fire Man's third release then; shall we?
Fire Man's third opens in direct relation to the moniker of its fast, artful-Punk chaos. 'Frantic' presents itself as the maddening occupant of the modern social media age with the backdrop of environmental longevity and what those with the power deem profitable. Track one captures the very chaos embodied in the Post-Hardcore period with stong legacy-ties to Fugazi and their own maniacal approach to evocative Punk. Although such is the basis of Fire Man's work, it's hard not to plaster the term "Noise Rock" around sufficiently enough. 'Frantic' again, is very much cycling almost perpetually in three whirling forms. Fire Man's lone guitar is heavily distorted, pedalled, looped and left unrestrained while Kiyoshi is a pure spasmodic show-stealing powerhouse. 'Frantic' has your attention.
'Brazilian Fire Song' opens over a reverberating groove that is considerably more reserved. Track two bubbles in and out of boiling point until a melodic reprieve eases in a tonally sardonic revelation. The band's Post-Hardcore-brand dirge could easily continue. However, that said, in lieu of what this project is, nothing is that simple. From 0:56 Fire Man moves into a faux-refrain suggesting a Hardcore combustion of sorts and yet it doesn't appear. Instead, and in the manner of the genre blueprint, the Hardcore Punk rage is repurposed into a playful, almost Indie-Punk-Rock tone lost somewhere in the band's unstable yet ironically coherent ensemble.
'Brazilian Fire Song' is laced together with this consistent, soaring, smiling and almost mocking warped lead-line. This very way-finder leads you to another teasing, heavy-set drumming refrain before an eventual and immensely satisfyingly welcome weighted display plays track to its end. Humans and their ruination, eh?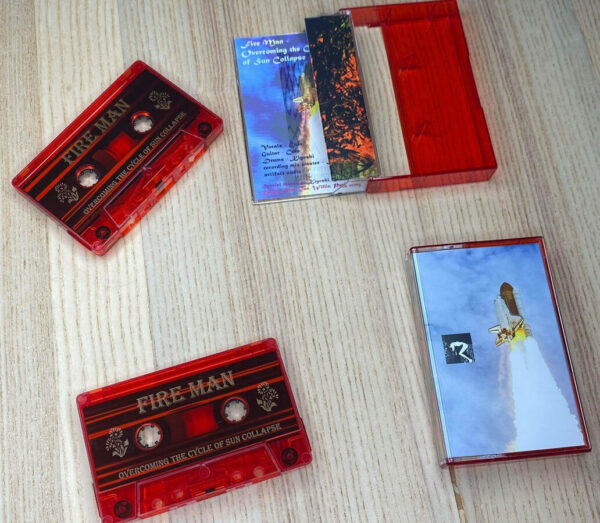 Fire Man's track arrangement and flow is to be commended as 'The Sun' rolls in. The band's middling number pulls the Punk-grit from the former two and rounds it into a more archetypical Post-Hardcore Punk. Fire Man's frantic and beautifully orchestrated and unrestrained layering is a selling point. That much is a given but it isn't the be-all of the two-piece. The aggravated first-half of 'The Sun' is a masterful reminder of Hardcore Punk's seminal tones and how the '80s and '90s spun it into progressive proliferation.
The operative words here is "first half". Fire Man's jarring, haunting Punk is permeated by their warped LSD-fuelled-textures. This foundation crucially only becomes more melodious subject to the context of itself. Overcoming The Cycle Of Sun Collapse is an environmentally political record and 'The Sun' is it's best. The tracks latter half flirts with experimental, near Math-led guitars as latter-timeline Fugazi-style Alternative Rock escorts the haunting voice samples to an end.
'Vacations' furthers this rounded, punching Alternative Rock dominance and its own repurposed Punk-bite. The penultimate blast needs a break and is itself breaking all the more as it crashes through its own apparently limitless catharsis. Again, Fire Man's artful and experimental Punk is as wonderous as it is exhausting, but in tracks such as 'Vacations', its ear-worming guitar-work steals the show before it can even rest.
'Unscrew' is unsettling from its first notes. The final foray is haunting and foreboding from its mischievously grinning guitar, nonchalantly Jazz-like drumming and its affixed sinister vocals. It is important to say that this is simply the first verse. This dimly-lit approach interchanges between heavy-set displays as 'Unscrew' passes on its knowledge through the process of complete combustion and repeat. The final track of Overcoming The Cycle Of Sun Collapse closes an EP rife with intricate textures offset and simultaneously fuelled by an exuberant artistic foundation of Punks indomitability.
In other words, it's pretty fucking intense.
Fire Man and Overcoming The Cycle Of Sun Collapse constitute a punch in the face. Repeatedly. Find it below alongside Caio's YouTube Channel, Punk Revolution Now, for music reviews and more.
Updates:
Music:
Punk Revolution Now: