FACELIFT – Thousand Palms, California, USA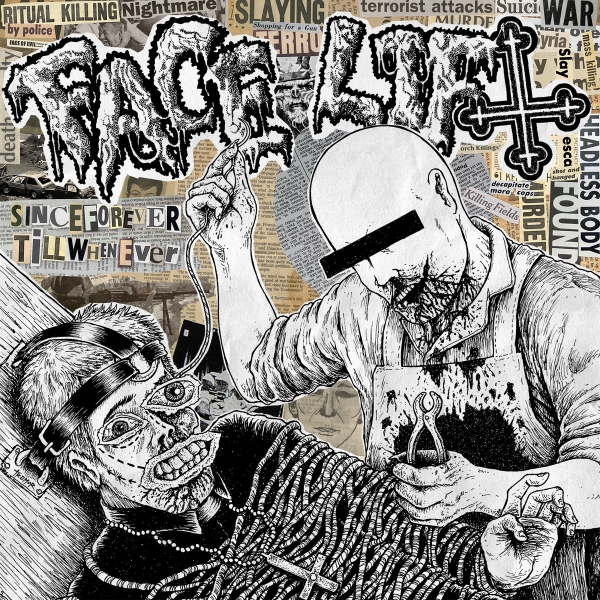 If you were to describe in person the sheer level of noise that Thousand Palms natives FACELIFT emanate, you'd have to take into account that no matter where the band themselves would be, be it far removed from yourself or not, said sonic volume would almost entirely drown you out. Thankfully, I don't have that problem due to using written words, words that are useful in describing the unrelentingly fast, visceral, Thrash affiliating, turbo-charged Black Flag-esque, Trash Talk embodying thrill-fest that is the overtly gratuitous but in the best way possible wall or noise that is FACELIFT.
The band's debut album from 2018, Straight Outta Thousands, is very must testament to the above string of reaction-to-screen words. The record was a little rough around the edges but as debuts go, FACELIFT played their contemporary all, but with that said, a year is a long time. Enter, SinceForeverTilWhenever.
After mere moments into the breakneck 'Fucked Out' the difference in recording clarity and skill is clear. The band's chaos is refined rather than rescinded and the production only aids this newer-found precision and more noticeable melodies and crunch and in no way negates the band's hallmarked rage.
'Fucked Out' and its melodic Thrash-leads helped you settle but simultaneously and maybe even unknowingly prepared you for the Melodic Hardcore straddling charge of 'S.O.S,' a track sampling more than simply 'core and Thrash confined to the west coast. Fans of This Is Hell or mid-to-late Comeback Kid may well find something here. FACELIFT have evolved and sometimes it's good to show-off.
'UMC' and it's whirling crescendo-lines and it's permeating vintage Hardcore rhythms see the band nearing their most old-school and it's refreshing within the context of this abrasive medium. 'Surf It' is very much more of the same but only in part, for Melodic Hardcore is embraced for one and the band's homage to their debut record in the other.
At the halfway point, you've been exposed to new direction, clarity and skill. Despite the thrill-ride that was the debut, FACELIFT are truly pushing their boundaries with album #2. 'Embrace' very much does very much that. The band build a layered amalgamation of classic Hardcore infused with the vintage Punk that came before and the more melodic genre-wide styles of what came thereafter, all the while excellently remaining the same band with that best-way-cliche love of Thrash-warped strings.
For all those in favour of the past. FACELIFT raise you with 'Eleven' and 'Frying Song PT 2'. The band almost expect a little criticism against their more melodic sound and the structure of this album very much is built against such false criticism for these tracks capture their first album yet again but this time not gratuitous, but naturally driven. 'Getting A Grip' stands as a highlight of this refined sound and along with the eerie melodies of 'Til Whenever' either intentionally or not echoes the lasting influence of Poison Idea.
For a split second and intermittently the band relent their seemingly inexhaustible tempo in 'Newest Anger' and in doing so, re-evaluate the pace on offer once it breaks from its (barely together) confines. As the last of the originals on this thirteen track cathartic riff-storm of a release pass, you finally feel able to articulate how tightly knit the band are and how they have in certainty found their comfort. FACELIFT close with a cover of 'Cosmetic Plague' by Rudimentary Peni and 'Why' by RKL.
25/10/19 is the day. Pre-order below.