Bussieres – Montreal, Québec, Canada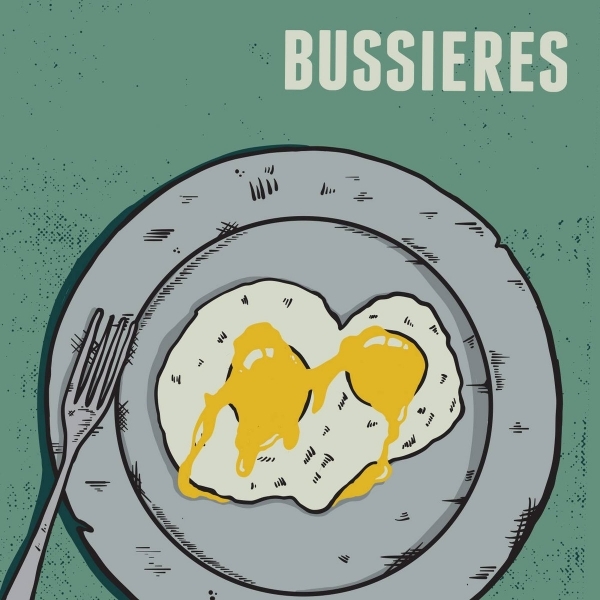 Cover photo – Marie-Christine Gobeil .
It's safe to say that this Montreal four-piece are very much part of the strength that is the Canadian Punk scene. The band's debut EP from 2016 – Orange Glow purveyed the modern rendition of the never-gonna-die stylistic that was and is 90's melodic Punk, ranging from fast Skate Punk tempo to upbeat melodic sing-a-longs and a penchant for classic Pop-Punk melody, with a little influence from contemporary gruff-Punk.
Orange Glow objectively had all these notable characteristics and fitted well into a national and global scene on the rise but it still, in hindsight at least, had something missing or rather space to add a subtle difference. Enter 2018 and their themed six-track Sunny Side Up.
In name, 'Baxter' is inline with this theme, one that I will leave to you to ascertain but shall we say that, he did get the whole wheel of cheese and did survive the fall. 'Baxter' the song shows how far the band have progressed. The fast Tech-Skate Punk and soaring melodies of Mute, This Is A Standoff and Belvedere are clear in the shredding intro before the classic 90's Punk rhythms almost completely take over with just that extra edge ahead of classic Canadian melodic Punk.
Bussieres have taken a very good sound, improved, supplemented and repurposed. This is the same band but more aware of the scene and matured. 'Santa I Know Him!' gives fully to classic Skate Punk this time more focussed on a US-led sound, showing a dichotomy to the scene and proof that it really doesn't all sound the same. 'August 29th' is very much the love child of the previous two with another classic Canadian chorus but with higher noted guitars. You are in fact fully immersed by this point but find yourself cut by the vintage length of 0:37. A slight criticism perhaps but the well-worded resonating track is still a release notable.
'Prestige Worldwide' is very much the track most fitting to the band's current label, Thousand Islands Records, a label hungry for fast melodic Punk. If you were to produce sampler to draw people to the label, you'd choose this track hands down. 'Prestige Worldwide' is chilling tale of bleak modern existence and will resonate from it's first line.
Drummer Sean was born to play fast and never misses a beat. While the harmonic vocals much like many of the names above take the multi-layered vocals popularised post-Suffer and utilise the technique in such a way that sees the lead being very much that but noticeably bolstered by softer vocal and harmony support, allowing the again typical – but by no means banal or boring – melodic Canadian Punk vocals to soar and meld perfectly with the equally characteristic immersive guitar melodies. Fans of this countries' output will know exactly what I speak of.
Have you worked out the theme yet? No, well 'Talladega Knights' should give you a hint. With all the focus on overtly well-executed Tech-Punk graduating from the world of Post-Hardcore of all those years ago doing the rounds, you find bands like Bussieres' very much emulating the more classic Skate Punk sound with this new found – or rather now more popularised – stylistic kept simply in mind. The band take the precision, the technique, the tight well-oiled nature of such and simply apply it to their sound rather than follow suit. That's not to say there is anything wrong with going full Tech-Punk but it shouldn't become a necessity just to gain popularity, something that hopefully will never come to pass.
'Sunny Side Up' is another excellent performance from the band's drummer whose expertise allows the others own to shine. Sean of house drum-kit and his skills are ubiquitous and omnipresent and again the talent of the entire band couldn't reach it's full fruition without it. 'Sunny Side Up' is perhaps the best in regard to instrumentation as the band have some real fun, and do indeed show off a little. Bussieres' harmonic and instantly winning and up-to-standard front and back vocal delivery may well be excellent but it is in their instrumentation that they really, really impress you.
Thousand Islands Records have done it again, greedy so and so's.
Updates:
Music:
Thousand Islands Records: