Bash Brothers – Eksjö, Sweden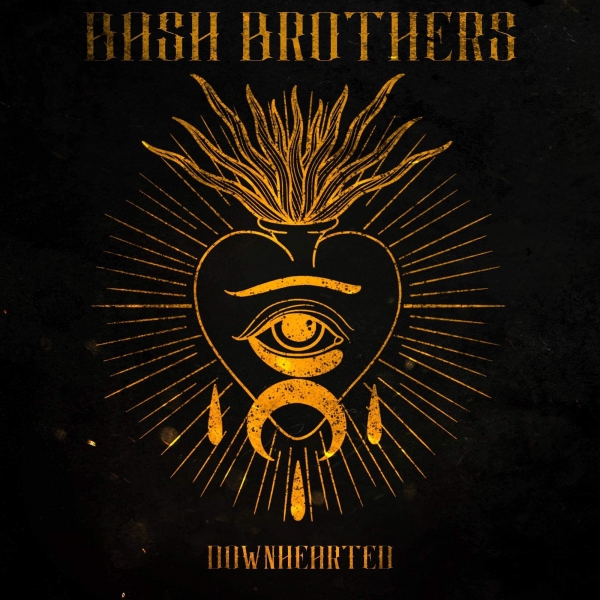 If you recall your trip down Punk-Rock lane over the past two years, it is highly likely that you may have noted down two releases by the Swedish, Eksjö natives Bash Brothers. Their debut Self-Titled EP from 2017 and the thrilling Skate Punk of the 2018 Life Lessons left much to be desired and indeed difficultly improved upon. This was something obvious to the band then and more-so to their revamped line-up, so obvious, that it obviously became obvious to the rapidly growing label, Thousand Islands Records, who snapped up the release of the Downhearted – obviously.
Skate Punk filtered through riff-laden, jagged Melodic Hardcore? Yes, the band are unmistakably known for such and that is exactly what greets you in the opening and emotive 'It's Not The End Of The World', where Bash Brothers contrast perfectly gliding melodies with hard, cathartic Hardcore infusions. Bash Brothers have certainly returned and 'It's Not The End Of The World' is perhaps, no – certifiably the best and most sonically pummelling way to open a sophomore effort.
Featuring one Niklas Karlsson of Orbit Culture, 'Blow Of Mercy' shows drummer Richard Hansson to be nigh-uncatchable and utterly flawless in this precision executed speed. Vocally, the band focus more on their melodic leads and emotive backing supplemented with Hardcore screams. Niklas Karlsson leads the band off alongside a tangent of Metallic Hardcore riffs and guttural imposing screamed vocals that are hard to forget from 2:17 to 2:40 before the band's melodies resume this time infected with what came before.
Again I must stress the precision at which drummer Robert Hannson plies his craft into the Bash Brothers machine. The band's Skate Punk is relentless and in top form in 'A Shadow Of Yourself'. Here, the band again shows us an award-winning formula of speeding-unabated through melodic Punk and ending on something a little sharper. The release by this point is moving closer to crescendos and Tech-Punk-esque guitar-lines and riffs with increasing melody without for a nano-second losing any of the accumulated momentum or attention from your side of the barrier.
'Dark Passenger' very much epitomises why unashamedly and emotionally charged melodic variants of Punk and Hardcore are so unambiguously strong and justifies their growth in it's 3:56; all before 'Guiltless' takes the stage. 'When will they realise that – they made a mistake, I don't know If I'm dreaming […]' are haunting, true words that fit sadly and perfectly into the hearts and minds of many and not just the Punks. The sheer conviction behind this album is both beautiful and worrying from whatever angle you are peering from. 'Guiltless' is a perfect modern Punk song.
If you are one of those people who biologically react to the music you find aesthetically pleasing via a cold shiver and raised skin, then the opening of 'Twist Your Tongue' is your new favourite track. If Strung Out plied the guitar melodies of modern Punk into their early scrappy Skate Punk then they would have come up with something like this. 'Twist Your Tongue' has that slight but more than crucial difference in its jagged, classic yet refreshed assault backed with the stellar and damn-near untouchable emotion Bash Brothers are known for.
'Paralysed' is more evidence of the strength and dichotomy of the Bash Brothers sound. They match already jagged Skate Punk with whirling, soaring melodies into Melodic Hardcore so much harder and visceral in a way that arguably forms a Punk triumvirate with a Hardcore Punk natural conception. 'The Easy Way Out' was another single and takes this Hardcore edge further as it lambasts and aims pure disgust at ignorance with another perfect chorus.
The eponymous 'Downhearted' sees one John Harcus of Pmx join proceedings and is more than a worthy title track on an album that becomes harder and harder to separate into "top tier" and below simply because it is all unequivocally "top tier". 'Downheardted' has a blistering pace and stellar skill leading perfectly into yet another anthemic intro via 'Yellow Dirt'. A track first in a final three displays of societally aware, unrivalled and not even remotely restrained cathartic emotion.
Vince Fournier of Our Darkest Days is the final of the Punk-Rock studded cast to make an appearance in 'Green Street', where the band's tone embodies classic NYC Hardcore before jetting off into jagged European Skate Punk once more. Making things right and finding that home we crave and once had is something critically fundamental to the human condition that is life; a perpetual search that 'Green Street' quests for.
The aptly titled 'Fade Out' closes an album that I have tried to do justice but in truth, could have written volumes and chronicles on. I will leave 'Fade Out' to you alongside an alternate micro-review of this full-length – This album is fucking unstoppable.
Pre-Order now from Thousand Islands Records and the band themselves.
Updates:
Music:
Thousand Islands Records: