Attic Salt – Springfield, Illinois, USA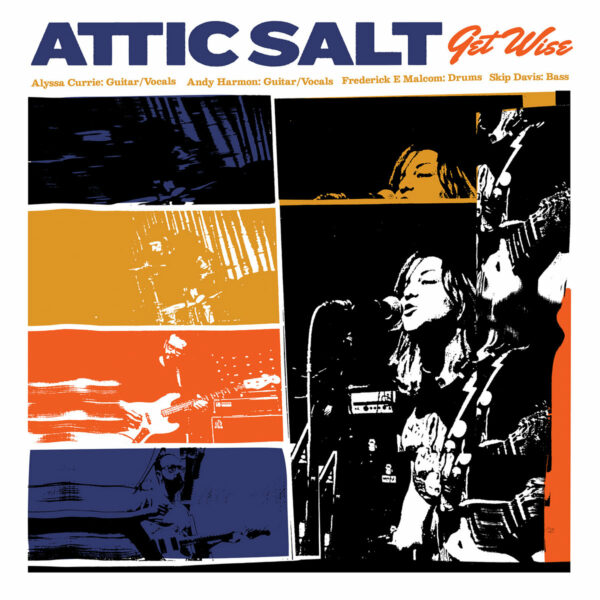 Pop-Punk, in the grand scheme of things, is a funny one. Amidst this oddly diverse bag is where Attic Salt and Get Wise exist. The genre's initial inception was simply melodic Punk-Rock with varying degrees of slightly more overt melody and lyrics ridden with life frustration. This, of course, spawned the teen-babble we all fell-for at some stage and likely still do to a point. Pop-Rock and influences from Emo then made their own respective ways in and the genre grew. These days though, there is another facet that's really done rather well. And in this case, it is so via Springfield, Illinois.
The likes of The Menzingers, the Burnt Tapes, The Dopamines, The Raging Nathans, Banner Pilot, The Copyrights and more all populate a meeting point in a plane of existence often referred to as Pop-Punk, but in reality, such is barely tenable. It is absolutely the case that without Pop-Punk that these bands wouldn't exist. However, the genres playful exuberance and more mature approach away from cliché, ultimately borrowed from Indie and Alt. Rock, has birthed something that is effectively stripped-back Punk-Rock with poppy bits about life. Enter-proper Attic Salt and Get Wise.
In a nutshell, the band's 2018 debut was as thus. The above is not to say that the band don't chime in with the classic Pop-Punk of the '90s, but in their own way. 'Last Song' very much parks in this mid-paced locale but with witty yet sardonic and dry humour away from dick-jokes and break-ups. 'Beautiful Lies' maintains this mid-paced melodic approach ala the manner of what made the mid-career (the) Menzingers so notable. These are songs about life and with an alternation between both Alyssa and Andy on vocal duties, Get Wise is dynamic and anti-complacent.
This is still Pop-Punk by many definitions. However, as I've said above, not in the way that is often dismissed. 'Washington Street' encapsulates this entirely as well as the lasting influence of the better twenty-four-hour increments of Green Day. 'Undiscovered' pushes this as it drives off into subterranean escapism, away from it all. To reiterate, this is Pop-Punk but not as you'd think it. Attic Salt filter their variant through life-experience and a fitting amount of maturity. 'Fool 4 U' approaches the Pop-Punk love song but via Attic Salt's branded vector. Normally, I would drop-in the "cliché' remark here. I would do this no matter how objectively well composed the track would be, but here, it's just Attic Salt doing Attic Salt. 'Fool 4 U' is by no means higher tier on Get Wise but it further perpetuates how persistently this band have you on their beckoning hooks.
'Souvenir' is one for fans of Elm Tree Circle, of whom I'll leave – Here – for those unaware. Track seven takes a humourous jibe at further escapism and simply getting away from failed relationships. What would you take with you to remind you of how bad things can get? To "get wise", despite its onset lighthearted delivery, is an aptly titled magnum opus of this record.
'MOD', from Alyssa's perspective, delivers some of the best one-liners of Get Wise in quick succession.  'You set your alarm clock, but it never wakes you up' – 'Feed me your excuses eat them as you make them up' – 'You don't have to keep drinking but you don't have to sober up'.  'MOD' and its lyricism battles flying straight and getting shit done under the gaze of someone that needs to do just that. Musically, 'MOD' is more of the effortless, intentional same. You have absolutely heard this stylistic before, but what of it? The maturity Pop-Punk on offer sounds as thus because that is exactly what the band wanted. The buzzsaw guitars, OG-manic drumming, harmonised vocals and floor-board vibrating bass are intrinsic to the band's humourous catharsis. Sometimes, you just have to laugh and gritty popped-Punk-Rock is the best way to do so.
'Snow Day' sees the band ponder the "what-ifs" and wishful thinking of relationships. The penultimate number boasts some of the best vocal interplay and vocal harmonies of Get Wise. Lyrically, Attic Salt's one-liners and witty retorts to each other and themselves are still unmatched and on-form. If 'Snow Day' was stuck amidst relationship uncertainty, then 'Truck Stop' is the further self-doubt and existentialism that has ubiquitously loomed throughout album #2.
'Truck Stop' is a lament to what has led to the constant cranium re-runs. The track boasts, compares and trumps the very best of the likes of Banner Pilot and the aforementioned names. The final foray is not only the best on the album, but closes one that warrants repeated listens. Pop-Punk doesn't have to be a dirty word and Attic Salt prove this track after track on Get Wise.
Attic Salt and Get Wise entered 2020 through Jump Start Records. Find both below.
Updates:
Music:
Jump Start Records: