Winning Streak – Texas, USA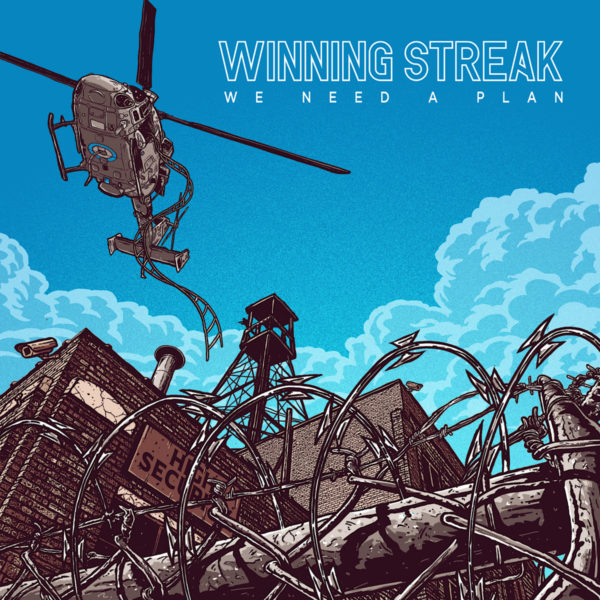 After a busy year, an increase in personnel and a rebirth of their debut, Winning Streak and We Need A Plan approach their triumph. The band are set to release their long-awaited follow up this coming November, and now, bolstered with both Chris McGrath of Much The Same and Davey Knight of Debt Cemetary, Winning Streak empower their soaring, heartfelt yet jagged and abrasive technical Skate Punk with newfound vigour. Thousand Islands Records of Canada will be handling the North American wing of this operation while Disconnect Disconnect Records will be doing the same in the UK and Europe, spreading the record to the Skate Punk masses.
But is We Need A Plan any good? Well, as I've been sitting on the record for literal months, I feel it is time to offer my thoughts. True to form, the band open sombrely, emotively and committed to the unrelenting pace of the genre. The eponymous 'We Need A Plan' is brooding, but not unwilling to stake it's beyond tenable, technical, tenacious claim. 'The smoke is the only reminder there ever were flames' is a line that wastes no time in its downtrodden yet poignant attack on the contemporary way of it and the perpetually cycling war machine. In two years, Andrew Palmer's lyricism hasn't lost its punch and if anything, hits harder. The band's point here is only more devastating through its melodic but Metal infused delivery.
The sharp metallic inclinations of both the band and genre ebb to the back in 'I Tried To Run'. That said, they allow their precision approach to offset and contrast the harmonic sound of Winning Streak. I have said this before, but the band constantly interchange a melodic to abrasive dichotomy. In the determined, hindsight-ruled 'I Tried To Run', the band may well take to the skies but can ground themselves at any moment. 'Authenticity' lovingly odes to the '90s Punk-Rock still so prevalent today. This second version of the band has overhauled every inherent ante. 'Authenticity', much like its predecessor, displays what the band is good at in a charge of melodic, emotive, fist-pumping Skate Punk resulting in a life-affirming defiant anthem.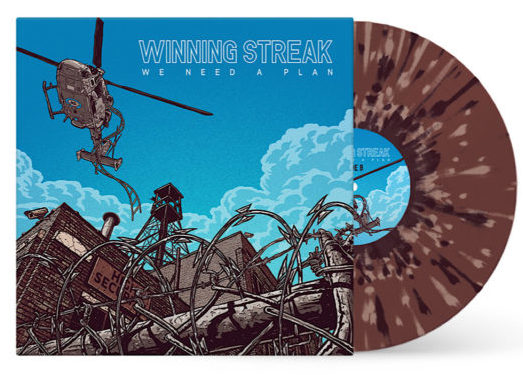 Sam Koehl's drumming further odes, owns and operates efficiently as the record pushes on, formulating its plan. 'The Dark' battles very much that. Track four is a life story. A condensed, stripped back fast Punk-Rock song desiring escapism and to grapple hope. To be succinct, in its comparatively minor technical proficiency beyond again, Koehl's drumming and short, but precise noodling dual strings, 'The Dark' is a nearly wholly charming rendition of classic late '90s Skate Punk and a record best. In 'Positivity (Everything Is Screwed)' Winning Streak, as with the record thus far, tease a mid-pace but then naturally snap back into 123rd gear. The band's slower tempos are a tool only to be used when necessary. – 'Positivity, the modern world is like a desert, I'm searching for a Spring. Yeahhhhahahhhh! – The status quo disaster is too much of everything'.
'Three Hundred Million' expedites the increasing sequential return of the contemporary Tech-Punk so crucial to the Winning Streak tirade. This middling assault on the way of the contemporary is nothing short of anthemic. That very description is something, due to the band's harmonic nature, that could be argued to over-used but I can assure you, this isn't the case and its truer each time. 'Three Hundred Million' deviates in tone and marks one of the best on We Need A Plan, despite its hopelessness. This brooding, punching, decidedly disaffected disillusionment staves-off the onset risk of repetition that albums in the vein dance dangerously close to and does just in time.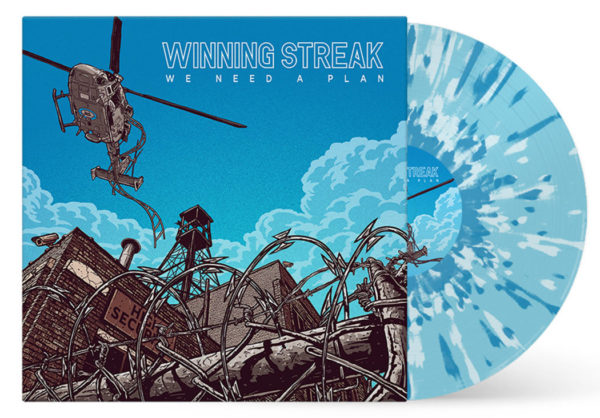 'Anchor In You' boasts razor-sharp, seamlessly technical blasts as Winning Streak keep toes-on-tips through perpetually shifting structures. Track seven akin to the way We Need A Plan is moving, showcases its premier guitar-work. A begrudging bassline introduces the tempo-deviating, riff-heavy and repurposes intensity of 'Antihero'. Track eight will either enrich your experience or simply exist. Winning Streak are either gambling here or know exactly what they are doing. As expected, an inherent tempo finally breaks but does so via this enveloping gloom, over-encumbering emotional and instrumental heaviness and is marginal in its air time. I'll leave you to decide but, what I will say, is that 'Antihero' is really very well done within itself.
'We Live Here' was the band's second single and effortlessly soars once again. 'We Live Here' is chilling despite its captivating melodic vocals and grounded instrumentation as it battles contemporary existentialism. McGrath and Knight, record-wide regardless of specific levels of involvement have allowed Winning Streak to reach their magnum opus as a band. It is fitting then, that 'Stop Screaming', the band'a defiant return to fold, follows indomitably. You can find a full review – Here.
Metallic Punk dominates 'We'll Make It Home'. This is the darker tone that has marked the best of We Need A Plan but not without losing the sheen of its stellar production and band-stamped external, non-Punk influences. The band play Punk under their own volition but are not indentured by it. This is championed and evident by their obvious Metal and mainstream-esque infusions alike. In fact, this IS the appeal of Winning Streak. No matter how far they venture in either direction, their dichotomy is maintained and then conjoined seamlessly when required. This is role of the hopeful closer-proper, 'We'll Make It Home'.
"Closer-proper"? Well, for those who snag the vinyl edition of We Need A Plan, 'Ruthies Kitchen' will close your harmonically-subsisting journey. Although this album is youthfully exuberant denoting to its style, it's a release post-growing-pains and comes from place of maturity in an effort to negate the incorrect maxim stating that Punk is only a phase for the young. 'Ruthies Kitchen' closes a run of life-songs drenched with emotion and stellar musicianship objectively. The subjective is on you. However, if you enjoyed Winning Streak before, We Need A Plan will make that seem like that was just a passing fancy in comparison.
Find the band, the pre-order and their respective labels below.
Updates:
Music:
Thousand Islands Records:
Disconnect Disconnect Records: