Taking On Water – San Diego, California, USA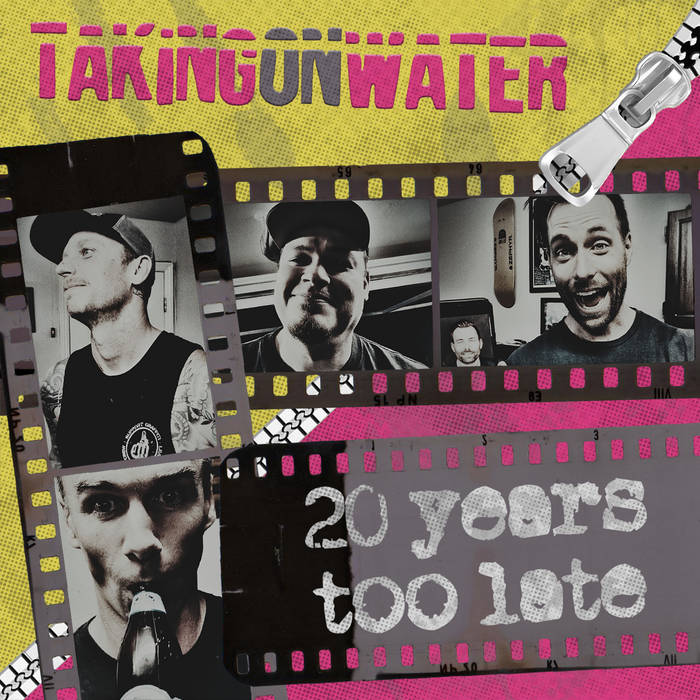 They say that if you truly love something, that you never outgrow it. Such a mantra is one more than crucial to Taking On Water and 20 Years Too Late. The Carlsbad/San Diego band are comprised of four people who, in a testament to the inexhaustible youthful exuberance of Punk-Rock, decided to push for another chance at the fast-time. The band all hail from the Cali-Punk scene in one way or another and in 2019, decided to return to the fray. Despite the scene taking prominence elsewhere in various revitalised, adrenalised and global locales, the California fast-Punk scene has remained at a consistently high-bpm. The sun-soaked region birthed much of the style that has founded countless other bands and variations of the seminal melodic wing of Punk-Rock music and so, deserves significant interest.
The heavy hitters of the genre remain but so do the scenes they themselves originated from. Enter Taking On Water and 20 Years Too Late. The aptly titled 'Here We Go' paces through the crowd in your head in search of the live shows we all miss. Taking On Water charge through off the back of Pennywise-esque rhythms glossed with a thick layer of emotive melody. The band open with a statement of intent. 20 Years Too Late isn't bothering with treading new ground rather just the ground it enjoys.
The band's melodic archetypical leads echo Lagwagon with the vocals following the seminally inspired suit. 'Here We Go' is followed by 'Never Too Old' and this second blast concerns exactly what you think it to. This blast of '90s Punk odes to the care-free Punk-kid that morphed into an adult adoring the same. TOW channel a line closer to scrappy vintage Pop-Punk but maintain their Skate Punk tendencies. This is a band that are comfortable and show it emphatically.
'How The West Was Won' odes to more seminal sounds. In this case, you can't help but hear parallels with MxPx and their own Pop-Skate Punk hybrid. 'How The War Was Won' adds the welcome higher-vocal tone of its predecessor and verse-to-chorus tempo changes that assist the change in mood. Skillfully, the band have begun to infuse variety into a genre they know all too well can be a little complacent. Find it in the EN '90s Punk playlist – Here.
'We Not Going Anywhere' is the slapstick, snotty humourous punch to the criticism that those who chose to emulate the past get from everyone else. It's admittedly a rather cliché Punk song via its subject matter but who really cares? The harder vocals return in a pleasing blast of humour and Ten Foot Pole fans may well enjoy these quirks who themselves are having a time. 'Father Of The Year' is a further humorous jab, but this time at the Paternal-unit via riff-heavy Moonraker-esque Pop-Punk.
'Am I Ok?' opens unconventionally over an acoustic guitar. The band highlight the difficulties of talking about what pains us most and its perpetual cycle of emotional drudgery. 'Am I Ok' opens up into melodic, heartfelt '90s Punk that stands as one of the best on this apparently very late album. Here, Taking On Water FINALLY utilises the vocal interplay the record had been sorely been missing until now.
I entered this album expecting the same old. The well-executed same old but thus nonetheless. However, the rate at which it is tempered is nothing short of surprising. The "same old" bits are present but flanked with much more. Moving on, 'The Last Goodbye' is a lament yet also a celebration. The track is a heartfelt unexpected hybridisation of tightly-wound Folk and Skate Punk showing Taking On Water's musicianship to be hard to negate.
'Bled Dry' boasts as another for fans fellow Cali-Punk cathartics Moonraker, and again, gives us just a little more of that vocal interplay that suits TOW so well. The track glides by in good continuity but truly shines between 2:15 and 2:28. The emotion of 'Bled Dry' takes over, pushed through on a permeating guitar-line that allows the final refrain to hit harder for its last foray. 'Mondays' is an all-too-common but also all-too felt blast of frustrated catharsis. 'Mondays' cuts deep with riff-heavy Skate Punk laced with a contrasting, mood-maintaining line. It may go about it in a generic way but the catharsis of 'Mondays' will surely resonate. It can be found in a playlist – Here.
'Try' slows to suit its painful overlook and through this, breaks rank in another album highlight. 'American Girl' is another track designed to simply maintain flow and nothing more. That said, it does indeed allow the release to fall-back on its foundational melodic Punk sound prior to its closure. 'Vacation' ends on the best lyrical work on 20 Years Too Late. TOW are sat at their desk wasting their lives. The band's wishful grind-alleviating escapism closes an album that surprised me more than I cared to be surprised. Oh, and despite the tone of that statement, I mean that more than positively.
Maybe I need a vacation…