Incisions – Manchester, England, United Kingdom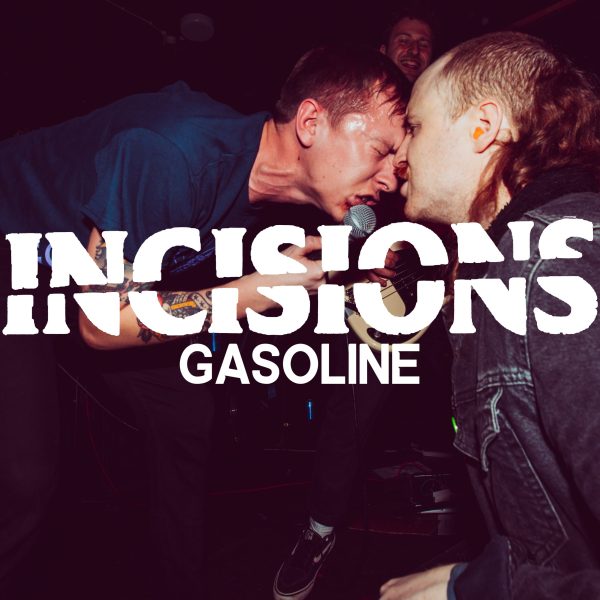 SURPRISE! Today we are here for the single premiere of Incisions and 'Gasoline'. The four-piece at this stage are no strangers to Ear Nutrition, Manchester, the UK Punk scene and to the soundtrack of our (apparently) inexorably determined grind. One, where to be incredulous is a default setting and bred into our existential status from birth, doing nothing but yielding a contrived and obsequious consciousness. This is the modern working person, hopefully anyway, that is of course from the perspective of those with predetermined and innate power. It is a burden and unfortunate, but only so for us.
This is the backdrop for the latest from Incisions. With their contemporary line-up codified, entrenched, unbridled and brimmed with a combustive and conviction laden confidence, their previous record BLISS was an incendiary masterpiece, emphatic to the end and the intrinsic staging point for 'Gasoline'.
Sonically, the latest single samples the band's more recent rage. Martin Battle's Noise-inflection rides maniacally spun out but precision targetted leads contrasting an Incisions rhythm section at its unequivocal highpoint. The band's bedrock of '80s US Hardcore is indomitable, that much is true but it has absorbed so much over the years. From native UK quirks to pummelling NYHC groove or warped, jarring Post-Hardcore, on BLISS and elsewhere, the band have more than substantiated their ability to play fast. However, on 'Gasoline', Incisions' display is less straightforward and writhes with frenetic energy. One that completely equates, reflects and mirrors the existentially raw emotion resulting from the ironic and continuously untenable routine forced upon us. On 'Gasoline' this is the woeful, bleak, bare-all and uncomfortably relatable imagery depicted by Jordan Lloyd and crafted into the whole that is Incision's latest tirade.
But enough from me. Get at it below and break some shit.
'Modern life is never fun'
As usual, the band are leading the (hopefully) equally indomitable TNSrecords down a dark alley and are also playing this year's Manchester Punk Festival.
Updates:
Music:
TNSrecords: