Much The Same – Chicago, Illinois, USA
"Much The Same and the Quitters Never Win Reissue" are a set of meaningful and determined words that very recently captivated the global fast-melodic Punk scene. In doing so, this collection of characters resulted in a response itself well within the realm of ecstatic from the bands OG fans as much as those who were first exposed during the release of 2019's Everything Is Fine. The 2003 album that catapulted the band into household-name status stood as a hybridised testimonial stalwart of Skate Punk, Pop-Punk and early 2000s Melodic Hardcore that shaped the tastes of many for years to come and likely wore out a few Discmans along the way.
Much The Same's return to the melodic Punk scene was both heralded and breakneck. Survive resurfaced on vinyl and the aforementioned Everything Is Fine unquestionably represented a band that whole-heartedly reembraced their art. As I would assume for many, Quitters Never Win was key to the development of my own tastes back in the day but how does it compare the modern vibrancy of the contemporary Skate Punk scene? How does this 2020 reissue, remaster and vinyl pressing stand against a scene now 17 years it's senior? Well…
By the early 2000s, Punk's obsequious obsession with archetypal structure and monotonous lyrical repetition was long gone. Punk-Rock bands were now more prone to emotional tirades and their cathartic bleeding hearts, as well as resultant societal pains, were barebones and intrinsically raw rather than contrived. 'Wish' entered the arena then much as it does now but now exponentially more whole. It straddled (and still does) the melody of mood-laden Pop-Punk with a key maturity spread over jagged Skate Punk with a naturally suiting awareness of Melodic Hardcore. Early 2000s production had a certain nostalgic charm and although 2020's 'Wish' carries it, it's far more successful this time in its wooing of your "hard to get" ears.
'Conclusion' is where this newfound wholeness begins to make more sense. 'Wish' is distracting in part due to its resurface but with 'Conclusion', Quitters Never Win doubles is clout. Again, early-2000s production has its charm and always will. However at the time and I think many would agree, the efforts of bassists and drummers were never quite heard the way they should have been. Much The Same's songwriting singularly-speaking can be disregarded here as it's aged remarkably well and presents itself as thus. However, regarding its place amongst it all, and crucially so, the depth of this remaster allows its impact to bridge this 17-year gap. From 'Conclusion' to 'New Years' and onward to 'Liar', the reissue substantiates its initial impact as it simultaneously charges into the contemporary room adorning its new threads. Said threads are fashionably notable in their entirety but I'd be failing myself and the efforts of Mark Michalik if I didn't emphasize how the bass and drum presence really makes this reissue what it is.
'New Years' is charged with an unwanted revelation, with the evolution of such riding a threading brooding guitar-line. Track three's contrast between its melodic-everything is now fully felt at full dichotomy with the cutting rhythms and weighted drumming. This marked difference skillfully matches the life-lesson of its lyricisms on both sides of the respective scenario. 'Liar' in hindsight, is enormously important to what the band would go on to do. The energy Much The Same brought to their 2003 delivery is intact and can be easily traced into the evolved sound of Everything Is Fine with every tight-turn alternation between the three wings of Punk-Rock the band embodied here.
Quitters Never Win is a fluid record but also that carries more variety than initially obvious. Whether this is simply via a revisit in general or because of the modern tweaks, I will leave up to you. 'Masquerade' was clearly written by a younger band and is typical of the era. It isn't quite as remarkable as others on the album but indeed maintains a key variety and flow. However, importantly, via hindsight its another "ah, this makes sense" moment for latter-timeline listeners. This is especially regarding the band's shameless penchant for the poppier-end of Punk music, itself something key to the band's recent work.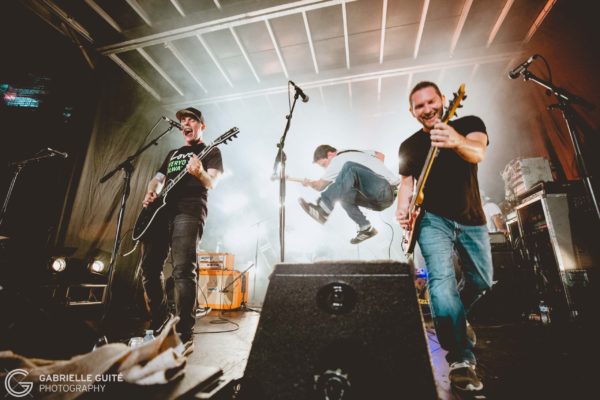 Reviewing a reissued release is an endeavour indeed. Quitters Never Win already has a certified history but has been given a second to chance to prove itself. Lyrically, the record is one of hope but through no pretension or pontificating waffle. Chris McGrath and the band as a whole touch upon other catharsis but even at the age of it being written, Quitters Never Win was and indeed is a down-to-earth deep-cut of emotional responses to life, growing pains and lifegoals through the style of well-articulated soliloquy. Truthfully, the album is one where having the lyric sheet affixed to your gaze is only going to be beneficial. That said, the manner in which this emotive Punk-Rock expresses itself is powerful enough in any setting. This, with the risk of sounding like a knackered Discman myself here, unambiguously owes much of its prowess to the weight of this remaster.
But how does the record as a whole now stack again the current crop? This all-important question became apparent in its rawest most urgent form as Quitters […] crashes through 'Hits Home', 'Quitters Never Win', 'One Of A Kind' and 'Miss The Pain'. For many and again myself, back in the day much of the appeal of alternative music as a whole was derived from the harder, aggressively fast music paired with crooning ear-worming Pop-sensibilities. Prove me wrong.
Quitters Never Win, more so than it was initially, is at a cleverly orchestrated crossroads. Much The Same, again, seamlessly segue between three brands of Punk music in a manner befitting the roots of the contemporary scene. The lavishly-technical, maelstroms of the now are still rife with much of seminal groundwork laid by albums such as this. The punch-face, sharp changes in tempo, aggression and vocal intensity that have unequivocally taken the scene at string-point can be heard and resonated with on Quitters Never Win as much as the as undeniable need for a melodic singalong.
The fact that this reinvigorated debut ends with one of the first and most heartfelt tracks that Chris Mcgrath ever wrote is now even more undeniably befitting of the band's approach to this music this second time around.
Lockjaw Records (UK/EU), Thousand Islands Records, (US/CAN) and PEE Records (Australia) are handling the Much The Same – Quitters Never Win reissue. Find all the pre-orders below!
Updates:
Music:
Pre-orders: