Kirkby Kiss – New Jersey, USA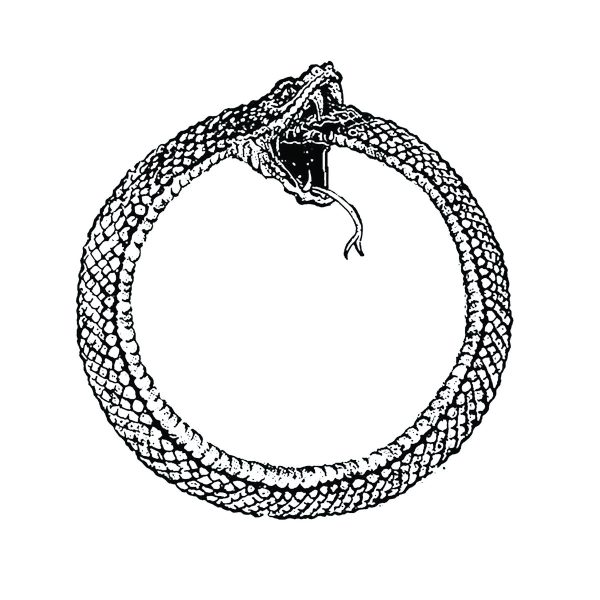 Kirkby Kiss and Ouroboros, together, are a band and their respective and latest release marking "quite a year" for the band. One within "quite a couple" of years further in amongst "quite a time" for global and indeed specifically, North American Hardcore Punk. Just to add to the prose-catalysed confusion of that sentence and further localise this "quite a time metric", focus on the USA and then again to the eastern state of New Jersey and we arrive with Kirkby Kiss and Ouroboros, but this time, with more literary sense. Ah yes, the power of free-"press".
Early 2022 saw the band release It's Gonna Cost You, a ten-track, twenty-minute blast of fluidly stylised Hardcore Punk-Rock that, I'm told, will soon make its way to vinyl via Council Records. It's already on cassette but I'll leave that to you. Council Records will be found below later on but you can absorb It's Gonna Cost You – Here. For now, it is time for the next chapter, Kirkby Kiss and Ouroboros, but again.
In a nutshell, take the unbridled chaotic take on 'core provided and further inspired by Fugazi, the slower but far from uninviting politicised and melodious punch of Modern Life Is War and sprinkle the legacy of US east coast Hardcore and a further flourish of metallic abrasion, Kirkby Kiss appear. 'I Mean't It' is foreboding and unquestionably emotionally raw as it gradually builds in an MLIW-esque amble, incrementally leading toward a cathartic maelstrom of crescendo and cycling yet organised chaos.
After the sombre amble trudges back to its rest, 'Desire' sets to its own cycling vigour, set on either side of slow lunges juxtaposing the almost Crust-dusted Post-Hardcore existing so seamlessly. The raw metallic rhythms and eerie melodic guitars of Crust Punk so easily slide into the band's vehemently "Hardcore" Post-Hardcore that the scope and range of the previous LP stands even taller.
'Running' fittingly equates the meaning of its title, crashing through a class in applying crucial and impeccably timed melody to vintage D-Beat-esque Hardcore before dropping into a "proto-beatdown" stomp without the bullshit. Kirkby Kiss don't understand the meaning of the term as their craft is bonafide pure expression in 2022. Take heed "macho Hardcore" types. "Feelings" are both Punk and certifiably Hardcore.
'Progress' is yet another masterfully raw, intrinsic epitome of the Kirkby Kiss school of modern Hardcore, shifting from a progressive jaunt into a (let's just say) east coast HC so refreshingly tributary it yields nothing but satisfaction. 'Progress' lambasts pseudo-progressives and posturing for change rather than (at the very least) having the preliminary and crucial discussions for it. From lyrical content onward to the raw but impeccably crafted and hybridised sound, the five-piece from New Jersey are masters of fluidic and unrelenting intensity from each of their five selves into their powerful whole.
Ouroboros closes with its eponymous self, in a track an accosting and affronting delve into a troubled, hindsight-ridden mind. On Ouroboros-proper, the NJHC five have further propelled themselves forward, substantiating the merit of their previous work with that of increasingly merited sequential efforts. Or, in a less verbose flex toward further prolificacy, they have excelled on an EP you really fucking need to satiate your penchant for Hardcore.
The release is currently available on CD with vinyl on the way,
Updates:
Music:
Council Records: