Filthy Hearts – Denver, Colorado, USA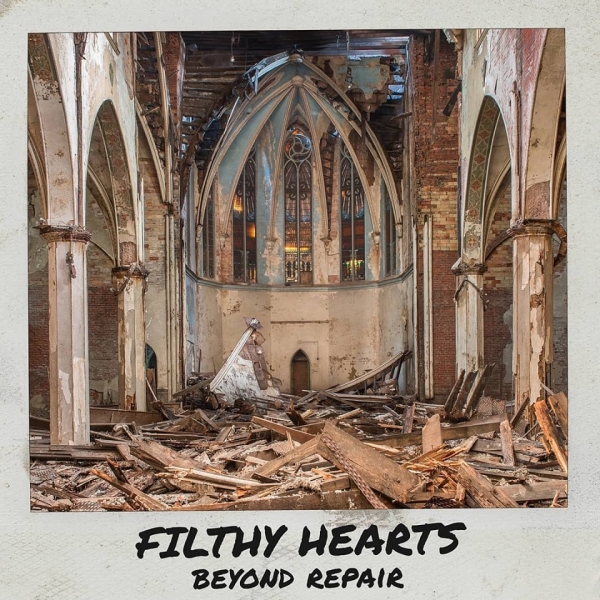 Filthy Hearts and The Debut Beyond Repair. What to say before we dive in? The band have been teasing us quite readily since their 2016 inception with the I'll Sleep When I'm Dead (Inside) EP. The band's emotive 90's Punk cascade of life-songs was confined to four early tracks that only left you feeling unfulfilled. This was of course not in any regard to their sonic quality, just the limited amount of what was offered.
Now in 2019, a line-up change here and signing to Hidden Home Records there, the band have set their phasers to catharsis and unleashed a full-spread on their first full-length, in an attempt to supplement the hardy Denver Punk scene all the more. Filthy Hearts and The Debut 'Beyond Repair', here we go.
With Beyond Repair you're welcomed rather than broken-in. Ryan Hatfield's vocals lean away from his melodic staple and further towards harder, strained Punk in excellent contrast to the melodic backing "woahs" and rumbling yet melodic Punk sound. 'Drinking Wells (Is The Best Revenge)' is originally from the band's debut, this time reimagined and re-charged via better production, more gritty-gusto and an up-tempo pace more fitting.
By the time of 'Friends? Strangers? The Mystery Of The Bar Tab' you're hooked. These life-punk songs have you by the ear and the insightful resonating words of the band's catharsis and musings are your idol. With this third track, the added vocal interplay not only adds more depth to Filthy Hearts' ensemble but captures an image of a chanting Punk crowd singing back in determination with the words – 'I'll find a light, I'll always find one'. Find it in one of our house playlists – Here.
'Morality' leans far more on the increasing tendency for this latest incarnation of the band to edge towards Skate Punk. However, all while, importantly still maintaining their cautionary-Pop-laden 90's Punk sound supplemented with a humourous sardonic grin. 'Desire' is of excellent quality and it sees the band's vocalist having a little fun on his bass-axe outside of his stellar vocal-output, as he is rumbling away and chasing the frantic drumming into a distant land where velocity is oxygen. 'Hiding Behind The Volume' is the anthem of the modern music obsessive. Positive, fucking, music with that exact message. Let's just enjoy it, cathartically release and hug each other, yeah?.
Fast, choppy, gritty sing-a-long Punk is one thing but so is the ballad slow-jam. See the fantastic and insanely quotable 'Voted The Best City To Be Lonely' for more of Mr Hatfield's and Mr Greg Jaeger's dual-voice-box output. 'I've Never Skanked A Day In My Entire Life' leaves behind any woe in favour of buzz-saw guitars and limited but required guitar melody in the choppiest of 90's Punk. Face To Face crossed with Banner Pilot's whiskey-soaked abandon perhaps? – 'Now clap those hands or stomp those feet,
It's the only thing that matters right now, get out of your mind and have a good time'.
The wording of this debut full-length may be intelligent and introspective but a simple chanting Punk song via plain-as-day articulation is just as effective. Filthy Hearts lay bare in all their paradoxically-perfect-imperfections on this record and that's something many of us could learn from.
'Disintegrating Bones' was the direct reaction and onset Nihilism after the reading of the linked quote (Here) and not only is perhaps the purest Punk lyrical cynicism on Beyond Repair but has some of the best guitar-work on the release. The band's structural might is unambiguously validated here and it leads to the excellent Skate Punk escapism of a re-hashed 'Career Day'. While 'Dreams Of Youth' on the other hand is a mid-paced anthem of existentialism and the unstoppable haemorrhaging of youthful-exuberance.
'Seasons' boasts a far more contemporary Skate-sound in service to maintaining your attention on this admittedly and ambitiously long album. Find it – Here. It worked for Lagwagon after all. 'Halfway To Dismay' is another blast of heart-on-sleeve grit and another excellent re-invigoration.
The band end on a specific type of protest-track you've come to expect since President Trump's inauguration and it's no less welcome than anything from Beyond Repair. 'And I Don't Even Have Kids' straddles classic Melodic Hardcore in a way the band rarely tease and it's enticing, to say the least.
Updates:
Music:
Hidden Home Records: