Disaster Forecast – Sheffield, England, United Kingdom (But Fast)
Today, Disaster Forecast and How To Skate Everything are the focus of this semi-well written set of words otherwise known as a sentence. Well, and the rest. I shan't keep you too long! Though the fast majority of contemporary Skate Punk and Melodic Hardcore tends to obliterate your ear canal from Canada or continental Europe (though the South American scene is also a riot and a fast one at that) the UK has its own list of exports. Though smaller and less frequent, this UK contingent has produced some of what is considered to be the best in the greater scene. That is just my opinion of course but it is within this epoch that Disaster Forecast stand as expedient newcomers.
With one single already down, the band chose to send my tempo-junkie lug 'oles their forthcoming EP. Shall we? Disaster Forecast and How To Skate Everything. Onward to Sheffield!
Disaster Forecast released their debut EP, Another Day, Another Disaster and single 'Safe Bet' in 2019 and 2020 respectively. Confidently, both releases showcased an amorphous Skate Punk and Melodic Hardcore sound that at times charted heavier territory and was a no-brainer for fans of the late'90s variant and all the meandering melodic guitar lines and serrated rhythms since. That, and forward-facing, adrenalized pace. Naturally.
This penchant for a harder, heavier and certifiably Hardcore-led flavour profile is the very bread and (possibly plant-based) butter of the intro to 'Rising Tide'. Reverberating, mildly metallic Hardcore Punk flexes its muscles as the band prepare to charge. Disaster Forecast fully embody Melodic Hardcore on 'Rising Tide'. Alternating tempos, Hardcore chord progressions and brooding rhythmic power are tightly wound and only breakneck when they need to be. Everything is darker, increasingly urgent and considerably more agitated. Vocally, the constant interchange between gruff yet harmonic and shrill scorn filled screams correlates the very contrast of the band's injections of melodious instrumentation to this newer, aggravated approach. 'Rising Tide' is one for fans of Hike The Peak, The Human Project and another band I'm about to mention.
With the EP art paying tribute to exactly what you think it is, it is of no surprise that 'Hanging Over' sounds as it does. Propagandhi-esque Hardcore Punk stamped with DF's intrinsically occurring mark occupies a fantastically vintage slice of existential frustration, one that is refreshed just enough for the now. If it ain't broke, don't fix it and play it faster.
Though 'Hanging Over' said its piece in under a minute, with its flanks comprised of the introductory 'Rising Tide' and the finalising 'Identity Parade', DF further distance themselves from archetypal Skate Punk track times. On one and three, Disaster Forecast favour variety stylistically and a greater duration fit for this purpose. To be succinct, the band stay as long as they need. This is especially so with perhaps the most important track on the EP.
On 'Identity Parade', they set a scene. The ubiquitous existential dread of the lost generation. The age of millennials told by either side of their age range that they are wrong, needy, lazy, selfish but also not selfish enough. An age range of people existentially and conversationally crippled and gaslight beyond the cognitive ability of most, for simply breathing at the wrong time. This is the setting of the personal introspection of 'Identity Parade'. A setting that Disaster Forecast stands in defiance of. Resolute, with a heart beating adorned on their collective sleeve.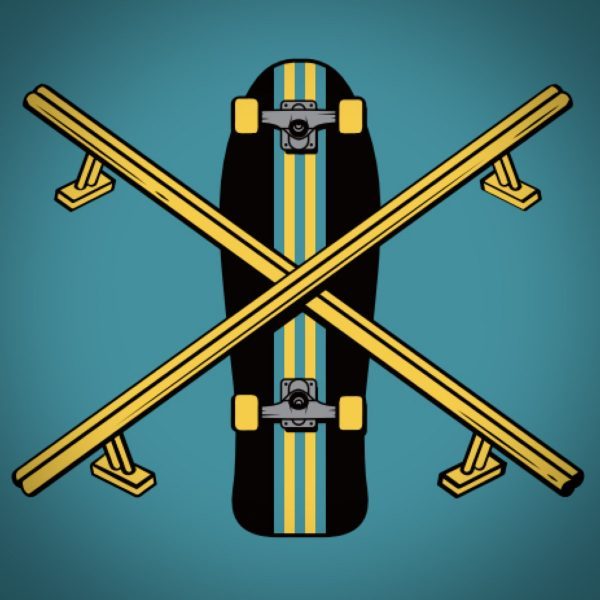 'So wave goodbye and hold your head up high'
Track three, stylistically speaking, is also unambiguously their best. The Skate Punk that dominated their debut and fed the transition 'Safe Bet' was making is now in the most comfortable symbiosis it has been since inception. Disaster Forecast become the very line between Skate Punk and Melodic Hardcore. Think the names above, add the likes of Thousand Oaks and the evocative 'Identity Parade' becomes a required blast of modern Punk. I'm not going to rattle on any further as I've been way too loquacious already, BUT, I can't stress how much you need to experience this EP.
'[…] And when you come back down to earth, remind yourself of what it's worth'
Disaster Forecast and How To Skate Everything. The 28/03/22 is the day.