Billy No Mates – Snuffington Manor, USA, This Time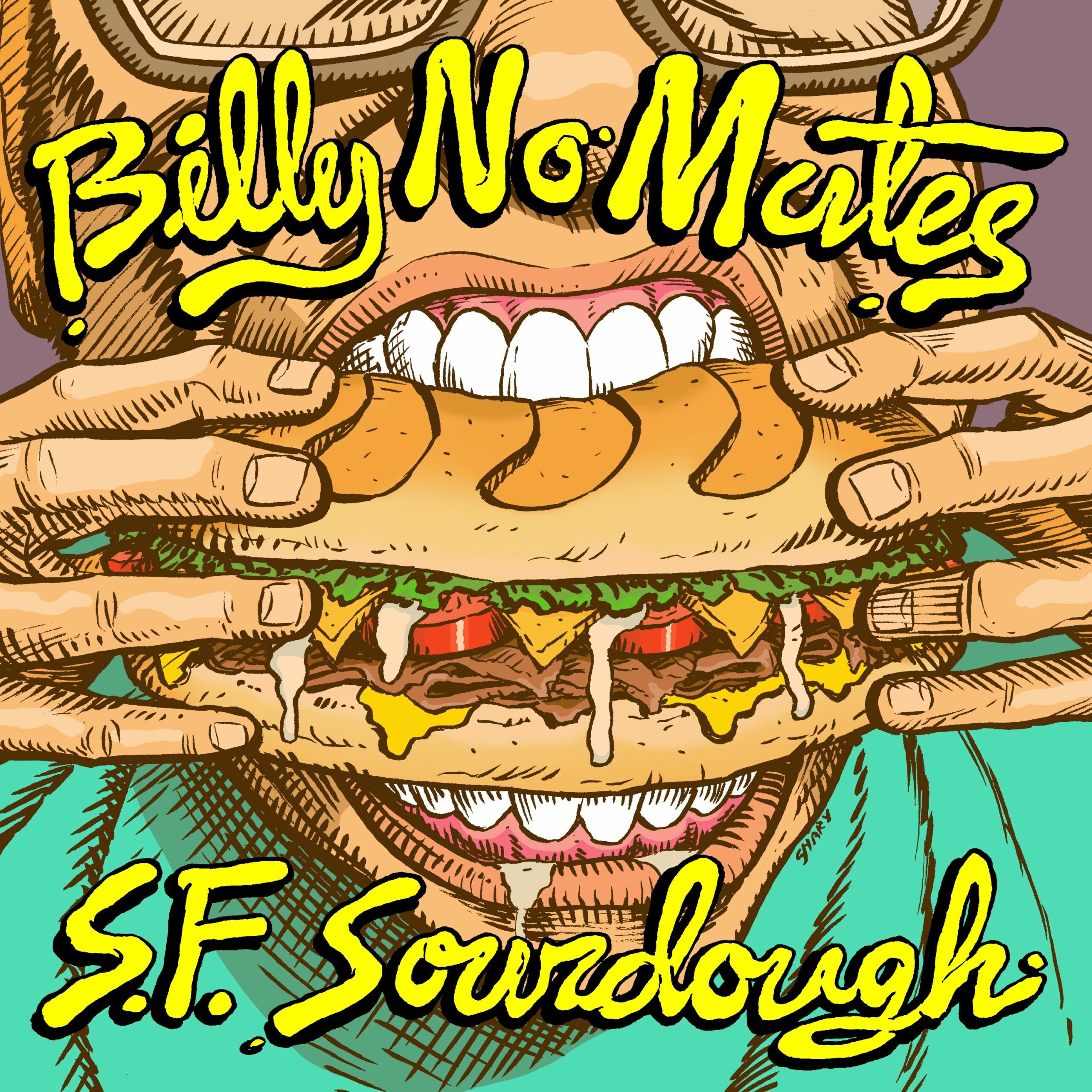 Contrary to popular belief, the title of Billy No Mates and S.F. Sourdough is really quite misleading. Billy actually has quite a few mates you know. In the past, his release history has enlisted friends from across the UK Punk scene and as afar afoot as Japan and now, he has chosen to unleash a set of US-centric recordings after ten years of maturation. The "Punk Supergroup" as much as I abhor the term, is one very fitting for this melodic Punk conglomerate. Many of you will recognise the quintessential tones of Duncan Redmonds from SNUFF but this time around, with the USA line-up of Billy No Mates, he is joined by some fellow scene notables constituting this very latest hunk of bread and butter. What is a decade really when music is so timeless?
Duncan Redmonds resides behind his signature kit and primary vocal output, while Joey "The Caper" Cape of the seminal Lagwagon and Me First & The Gimmie Gimmies lends his guitar and backing vocals. Tyson "Chicken" Annicharico of Dead To Me and formally Western Addiction lends his bass strings and Sergie "The Loob" Loobkoff of Samiam and Knapsack completes this effort with their own guitar and occasional voicebox. I was lucky enough to receive this hunk of sandwich ready sourdough in its twelve convenient sizable bites early and this is how it went.
S.F. Sourdough is a decade old record and yet, from its opening, drip-feeds what can be considered an arguable rarity in the classic melodic Punk world like a freshly baked loaf. That of the British-cised finish lacquered over the seminal melodic Punk-Rock birthed from the very US. For context, think SNUFF (obviously), Consumed, Guns N' Wankers, 4Ft Fingers, Phinius Gage and the like and you'll for the most part, settle in nicely. This is the very era 'If These Streets Could Talk' slowly ebbs into play. – 'If these streets could talk, they'd tell ya, just where you're going wrong'.
'Big Cliche' takes this foundation, applies the angsty, moody melodies many fell in love with into a persistent punching chug. Track two captures the juxtaposing ear-worms and inherent Punk-Rock grit and gusto into yet more bonafide evidence unto why this formula has eluded banality and monotony for so long. 'Big Cliche' then understandably combusts into a short cathartic blast of Skate Punk between 1:40-1:46 as a tantalising taster of what is to come as it dispenses with optimism.
'Slap Top' is comparatively playful but fully settled. The very exuberance of OG-Punk is melded with its '90s-legacy rendition. Billy No Mates can't escape modern contact. 'Slap Top' is amusing within its own contemporary context but if you apply the now, it's aged (woefully) and fantastically. 'Look At You' is laced with a line that leaves the hook and sinker invisible as they have you and preps you wonderfully for 'Skulls and Smiles'. Track five sees the precursory-dangling-tease of track two reaches full fruition. For all its playfulness, Billy No Mates still adhere to the genres inherent and intrinsic nature to have an underlying point. 'Skulls & Smiles' marks a triumvirate of strength on Billy No Mates and S.F. Sourdough and the refrain between 1:31 and 1:50 is of particular notability.
'What's That Fluffy?' harmonically keeps the bread from going stale while 'One Wave Short Of A Shipwreck' injects some of tone that makes latter-timeline Lagwagon tick. It is here that Billy's clever songwriting, though not written in the last few years, unambiguously in an eerily en point fashion, resonates now with resounding precision. Succinctly, seven is an ironic highpoint on record. 'Sourdough' is the big reveal in a manner of baking. 'Sourdough' provides the case for the particular food-stuff across jagged, cuttingly precise instrumentation between samples flanked with fast, melodic Skate Punk. Again, S.F. Sourdough maintains it's ancient grain and substantiates its ability to not go stale.
That said, 'It's Going To Be No' deviates and distracts from the flow of the flour. Track nine battles expectation and realism it cycles through a perpetual beat. Admittedly, the contrast with the former, despite the strong lyricism, is a little stark. However, THAT said, without it, the album would dance close to the precarious Punk-Rock occupational hazard of repetition. 'Angry Song' then abruptly disembowels the door with a blast of classic Hardcore Punk because why ever not? It's certainly nothing to complain about! What else would expect from a band with this many accolades?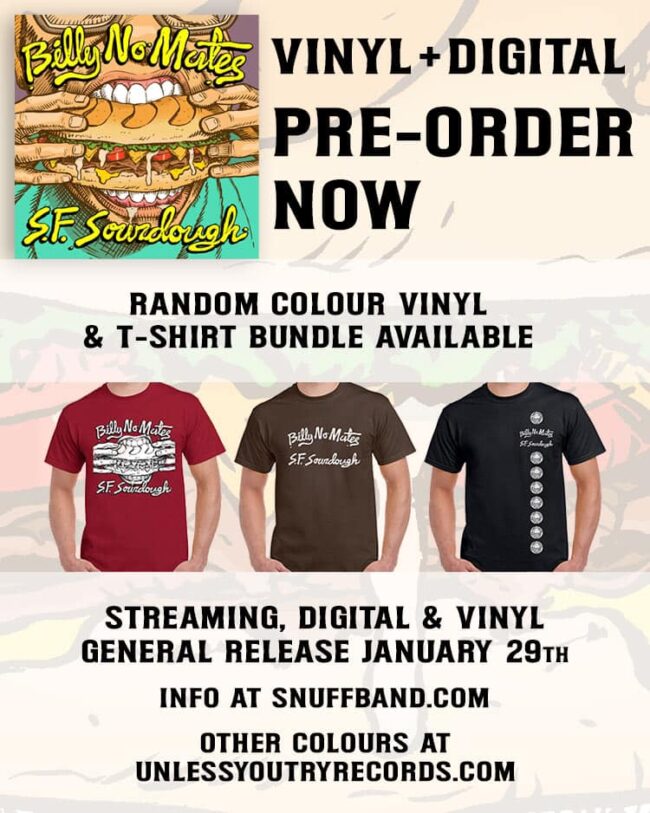 If there is one aspect of this release that must be highlighted, it is how comfortable it feels. At absolutely no stage would you ponder on its age if you weren't aware. S.F. Sourdough is a release concocted with fun in mind either side of its existence. 'Silver Love Down Mission Street', due to its place in the running order and its stark contrast to the previous three is indicative of this to the highest degree.
This version of Billy No Mates and S.F. Sourdough ebbs to a close. 'Your Name In Lights' follows a looming, sombre yet determined line into yet another contrast. The band close this chapter of the Billy No Mates experience on the wind-down. S.F. Sourdough is and has been a fun record but that's not to cheapen a lot of poignant displays within its effort. With that in mind, it is the closing 'Your Name In Lights' that boasts the best vocal contrast on the release between that of Mr No Mates and Mr Cape. Track twelve fully-embodies the emotive melodic tone from prior tracks and puts it to a full and further good use. 'Your Name In Lights' is replayable and immersive.
And so passes Billy No Mates and S.F. Sourdough. Ten years on from its conception and ageless from that very point. The band and S.F. Sourdough can be found below with pre-orders, bundles and digital pre-saves available.
Updates:
Music:
Unless You Try Records:
SNUFF/10 past 12 Records: