KOLLAPS\E – Helsingborg, Sweden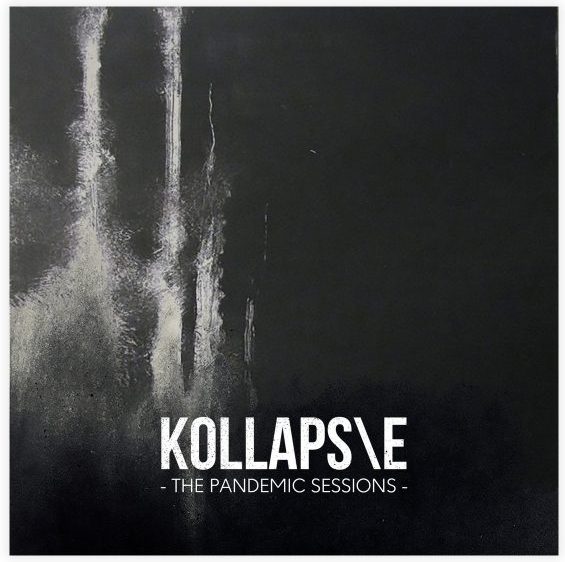 Truthfully, KOLLAPS\E and – The Pandemic Sessions – would do well amongst the host of bands in the Ear Nutrition "May Have Missed" series as I have as of five minutes ago finished volume 10. However, as I did not want to wait until the fated volume 11 in order to feature KOLLAPS\E, this very review came to fruition. Yes, I may have missed it initially or rather simply not had the time, but we are here now and so for a band from a country that has in no small way shaped the modern Punk, Alternative and Metal scenes respectively. To Helsingborg, Sweden then for KOLLAPS\E and – The Pandemic Sessions -.
Before any comment on the organised noise itself, it's important to state that the longest duration on this release is a modest is 4:42. This in itself is a bold move. Much in the way of Post-Metal often yields huge drawn-out track lengths giving time for the band to chart a course through whatever makes them tick and take their sweet time doing it. Considering its 4:09 duration then, 'Radiant//Static' is remarkably well varied and skillfully arranged.
A slow pervading and trudging Sludge riff and aesthetic is the metallic foundation of track one and though lumbering, its serrated and foreboding presence exudes enthralling unease that only increases. At 0:37 the abrasion is tempered by a measuring melodic guitar lead acting as a refrain ahead of further pummeling riffage soundtracking repetitive existential banality. The four-piece's driving Sludge-soaked metallic rhythms subtly show their links to Hardcore as this frustration represented. KOLLAPS\E's axes jostle and shift amongst themselves, shifting in intensity as they are propelled by an equally restless underpinning beat.
KOLLAPS\E, despite their arguably restrictive duration on 'Radiant//Static' keep you enthralled for what seems like a considerably longer time. The band build their layers of Post-Metal with viscous adhesive onward to their final combustion after a vicious mid-point. A slow, lone guitar then chugs ahead of a full band breakdown. It is here that KOLLAPS\E deviate again and reintroduce a now longer ambient and melodic overlay, cascading down in tone from soaring lead, to melodic midpoint and rumbling underbelly. Without this more ambient approach, 'Radiant//Static' would not be anywhere near as heavy-hitting.
Though favouring Sludge, the manner in which 'Radiant//Static' embodies a more "traditional" Post-Metal strengthens the nuance the band put on the genre and seamlessly introduces the path 'Murrian' takes. Though the abrasion of the misanthropic 'Murrain' is unquestionable, its contrast to track one still stark. Track two employs longer and more intricate instrumentals, excellent refrains and flowing arpeggiated chord progressions. The sheer level of power, this time more targetted and precise, marks 'Murrain' as quite the leviathan, but one completely aware itself, knowing when to unleash it's vigorous belabour. KOLLAPS\E I might add, do this at an impeccably well navigated 4:42.
'Wither away,
Wither away of pestilence
Wash away,
The foul stench of humanity.'
KOLLAPS\E and their unyielding cathartic craft are a band to monitor within the illustrative realm of heavy music with – The Pandemic Sessions – being an excellent foray into this world. Find all you need below.