Ructions – Newcastle, England, United Kingdom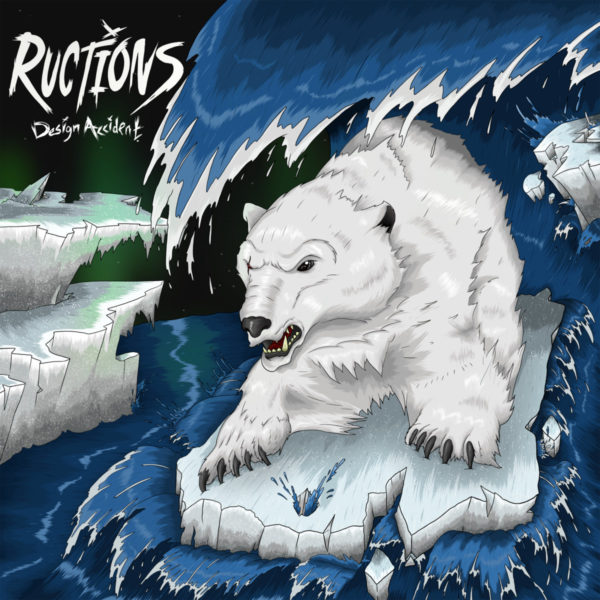 Ructions and their debut single 'Design Accident' publically and sonically manifest early this very month. Now, you may think that we couldn't possibly need another fast melodic Punk band but you'd be wrong. The global, as well as the European and UK fast Punk scenes respectively, are propagating the second golden age of melodic Punk music. Or is it the third? Either which way, I and likely you, are not complaining.
The Newcastle Upon Tyne five-piece known as Ructions have now begun to assist in this propagation and its utter-dependency on a constantly high bpm. In their debut, Ructions lambast the political failure, faux and pseudo-care that many elected "leaders" attempt to gloss over environmental concern with.
'Design Accident' purveys its deep rumbling Skate Punk and Melodic Hardcore crossover in a manner more than pleasing to the Tech-Punk crazed but also attributing to the genres less-overt roots. I said "less". Anyway, the band's cutting Punk is melodic but again not overtly. Despite leading-lines paving the way for the rest of the band's output relentlessly driven forward by Conor's adrenalised drumming, Ructions lean towards the genre's inherent grit. That said, Johnny Walker's vocals provide a separate and second melodic contrast that allows the layered sound to flourish.
The more you hit play, the band fit more naturally into the UK-wing of the scene. The manner in which the fast techy-aspect of the band takes hold is akin to the likes The Human Project, Captain Trips, Laughing In The Face Of and Pmx respectively. Each of the aforementioned are known for their precision tirades of cathartic sound but simultaneously for their clean, crisp and clear vocal delivery. This something Ructions also excel at. Also, if it wasn't obvious, that is your "for fans of" guide and updated dietary requirements.
The band are emphatic and clear and their point well-received. This is resoundingly down to not only Jonny Walker's vocal style but the band as a whole and the balanced sound they are able to achieve. That may seem like a throw-away statement to some, but it isn't. It's common enough for one to out-do the other but again, not here, as Ructions topical vocals soar parallel to the equally driven excellence below – 'The future is anchored to your ignorance, analysis is clear, across the media sphere'.
There isn't much more to say other than whatever is next has its benchmark. That was Ructions and their debut 'Design Accident'.
I'll shut-up now.