Delinquents – Dundee, Scotland, United Kingdom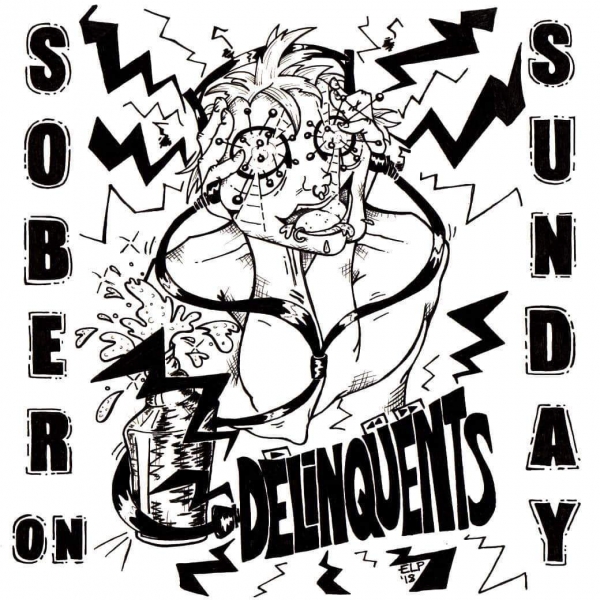 Cover photo credit: Burnt Bongo Photography.
It's safe to say that over the past two years, Dundee's Delinquents have had an excellent time. The band have had gigs and festivals coming out of their ears, their debut album release and a great deal of excellent reception to their classically inspired but contemporary Punk-Rock sound. If you are indeed new to them as a result of reading my dreadfully unimaginative word-things then I implore you to indulge in their debut About Last Night available in all places music inclined on this very inter-web.
Anyway, about TODAY, EN has been lucky enough to hear Delinquents follow up EP – Sober On Sunday, a forthcoming release aiming to pack the punch felt with their debut across but four tracks. A risky move indeed, even worthy enough of the term precarious but this band aren't one to wait around for a risk assessment, they have a week of reckless abandon ahead and they are only really going to be realistically able to think somewhat emphatically (give or take the hangover) on Sunday…
Opening with the eponymous titled that also sat as the EP's mainline enticement, 'Sober On Sunday' very clearly ticks the classic British Punk box had it been inside two larger boxes of early 80's Hardcore and 90's Skate Punk. 'Sober On Sunday' is very much track about the very recklessness and nihilism hinted at above and grabs your attention more than easily via its simple yet punchy cathartic snotty up-tempo Punk-Rock.
After that adrenaline blast, Delinquents take their harder aggro-approach off the table and opt for a classic sing-a-long that is more akin to the vintage Green Day or the earlier Garage tones of The Clash. To change such a tone in this release so quickly to use my favourite work again is rather precarious but as is obvious, this band simply don't care in the best way possible. Perhaps in that six-day week of nothing remotely resembling sobriety, this was just one of those evenings full of drunken imagery.
With the words 'FUCK OFF!' opening 'No Disguise', you expect it to be blunt and it is. This penultimate track very much embodies the battle with mental health all the more prevalent in contemporary society in a manner very much quintessentially Punk in its basic, honest, heart-on-sleeve, accosting and sardonically toned cry for help and admittance of your behaviour not being your own. As you'd expect, this catharsis is brought to you by fast, jagged Punk-Rock music allowing the song to both exist and resonate with the listener simultaneously – 'I'm sick of the feeling that I'm fucking sinking – No disguise tonight!'.
'Sinners' closes an EP with acoustic strings and a few keys here and there. Much like the previous and arguably the entirety of Delinquent's material, it's insanely quotable and couldn't be more honest. This is very much a song for born from the thought of an everyday person through observations and feelings both open and closed and if I'm not mistaken, that's very much Punk to the core.
The only negative thing I can say about this EP is that four tracks is too short and I wanted it to go on but it didn't, it is what it is and what it is is indeed excellent. Sober On Sunday releases on the 19/04/19 physically by the band and digitally everywhere.